The 48th Annual Greatest of the Grape, presented by the Umpqua Valley Winegrowers Association at Seven Feathers Casino Resort, was held Saturday, March 3rd, 2018.
PEOPLES' CHOICE AWARDS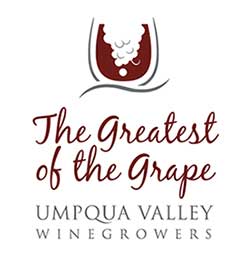 The Greatest of the Grape
Winner: Abacela, 2014 Tempranillo-Malbec "Fifty-Fifty"
Reds
Winner: Hillcrest Vineyard, 2015 Malbec-Tempranillo
Runner Up: Bradley Vineyards, 2016 Ruby's Red
Whites
Winner: Cooper Ridge Vineyard, 2016 Riesling
Runner Up: Delfino Vineyards, 2016 SuBerwein
Wine / Food Pairing
Bradley Vineyards, 2016 Ruby's Red with Tomaselli's Pastry Mill & Cafe's Cherry and Blackberry braised Beef Brisket
Favorite Food
Cow Creek Restaurant's oven braised Pork Belly, Asparagus-Corn Relish, and Pimento Oil
PROFESSIONAL AWARDS
WINE JUDGING
Gold Medals
Cliff Creek Cellars, 2016 MRV
Becker Vineyard, 2016 Cabernet Sauvignon
Chateau Nonchalant, 2015 Malbec
Silver Medals
Paul O'Brien Winery, 2016 Fume Blanc
Cooper Ridge Vineyard, 2016 Riesling
Spire Mountain Cellars, 2014 Tempranillo
Triple Oak Wine Vineyard, 2015 Temptanillo
Spangler Vineyards, 2015 Dolcetto
Bronze Medals
Foris Vineyards, 2016 Pinot Blanc
Henry Estate Winery, 2015 Pinot Noir
Marsh Anne Landing, 2015 GSM
Misty Oaks, 2015 BN2
FOOD JUDGING
First Place: True Kitchen & Bar, Spanish spiced Lamb Croquette w/Romesco topped w/tri-colored Peppers & Queso fresco
Runner Up: Fuel Mobile Kitchen, Goat Cheese Tamale Poblano Romesco & roasted Corn charred Spring Onion Relish
This year's wine judges were Mattie John Bamman, Hilary Berg, and Erin James. This year's Food Judges were Nathan Radford, Nancy Rodriguez, and Greg Vincent.