Craig Reed for The News-Review, Jun 19, 2022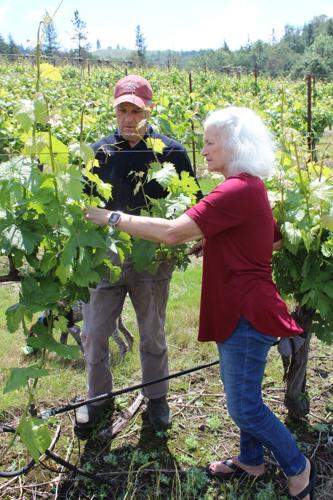 As Jim and Terri Delfino celebrate their 20th year in the vineyard and wine business, they recently announced they are retiring and will be closing their operations around Oct. 1. This will be their final summer of playing host in their tasting room and offering Saturday music events.
"It certainly comes with mixed emotions," Terri Delfino said.
When the Delfinos began their search for property to retire to, growing wine grapes was not part of their future plan. They wanted to escape the hectic environment of the San Francisco Bay Area and find a much quieter lifestyle.
They looked at properties in Oregon and Nevada before finding a small cattle ranch for sale in the hill country near Lookingglass. The couple purchased 160 acres of pasture land, oak habitat and Douglas fir timber in 2000, moving north in 2001.
"Neither of us had any experience in agriculture," said Terri Delfino. "We just wanted to have a little farm and be a little self-sufficient. Grapes never entered our minds at the time."
The Delfinos described themselves as casual wine drinkers, enjoying wines from the Napa Valley while living and working in the Bay Area. Terri worked in marketing, sales and event planning. Jim was a property manager for commercial and residential properties.
After settling on their property and getting to know the area better, they couldn't help but notice wine grape vineyards in Douglas County. They also met some of the area's wine growers, including Earl and Hilda Jones of Abacela Winery near Winston, Wayne Parker of Melrose Vineyards west of Roseburg and Scott Henry of Henry Estate Winery in the Umpqua area.
It was Jim who decided some of the hillside pasture land could be turned into vineyards.
"Jim wanted to plant some grapes and I said, 'Hey, go for it,'" Terri recalled of the start of Delfino Vineyards. "We were actually told we couldn't grow grapes on this land."
But the couple worked hard to prep the ground. In June 2002, after discing a southwest-facing slope, picking up and removing rocks, the Delfinos planted 8 acres with mostly Tempranillo cuttings they obtained from Abacela Winery's vineyard. Over the next year, they planted another 6 acres.
In 2009, they planted 4 more acres, completing the 18-acre vineyard. In addition to the Tempranillo, other varietals including Syrah, Cabernet Sauvignon, Dolcetto, Zinfandel, Merlot, Muller Thurgau and Mourvedre were planted.
"We have hillside property that provides quality grapes, but not the quantity you might find on a valley floor," Jim said.
The vineyard's first significant harvest was in 2006. The Delfinos didn't have a winery to make wine so they shipped their grapes to winemaker Terry Brandborg in Elkton. The 2007 Syrah red wine made from Delfino grapes by Brandborg won the People's Choice Award at the Greatest of the Grape event in 2018.
"It was so exciting for us, so amazing," Terri said of that honor.
While their grapes continued to be made into wine elsewhere, the Delfinos built a wine tasting room in 2009 in order to share the wine when it came back to them in bottles. Their wine club membership grew to about 300.
Through the years, winemakers Scott Henry, Linda Donovan at Pallet Crush in Medford, Denise Aaron and Debra McKinney, graduates of the Umpqua Community College wine program, and presently Leon Glaser at JosephJane Winery in Garden Valley have made wine from the Delfino grapes. Jim Delfino has assisted each winemaker, learning the skill through those experiences.
"The only wine we have made every single year since we started is Tempranillo, our signature wine," said Terri. "Those wines win awards every year, at least a couple platinum medals and also double golds."
Several other Delfino wines have also won awards, including a platinum from SIP Magazine's Best of the Northwest for the 2020 Schamwein, a sparkling wine, a platinum from the Greatest of the Grape judges for the 2015 Forza, a Tempranillo dessert wine, a gold from Sunset Magazine for the 2010 Cabernet Sauvignon and Sunset's Best of Class for the 2011 Rose Zinfandel.
"Despite the ups and downs, that's all part of the journey, we've loved it," Jim said. "If you have success constantly, then you don't know what success is. If you don't have some setbacks, you can't really appreciate success."
To diversify their operation, the Delfinos added a bed and breakfast cottage in 2002, the same year they started the vineyard. In 2009 when they opened the tasting room, they added music events on Saturdays through the summer. A venue overlooking a large pond can accommodate up to 700 people. A smaller venue closer to the tasting room is also used.
"We love sharing this property," Terri said. "We built it and Jim keeps it manicured."
As Jim and Terri ease up on the work and responsibilities needed to keep the operation a success, they have sold 15 acres of their vineyard, but are continuing to manage those acres through this year. They've kept 3 acres of Tempranillo grapes so Jim can continue to enjoy some hobby winemaking.
"We are looking forward to our next adventure," Terri said.