Reustle-Prayer Rock Vineyards, 2017 Northwest Winery of the Year, wins "Best of the Best!" title at Wine Press NW Platinum judging.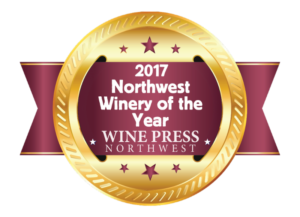 Kennewick, WA. Eric Degerman of Wine Press NW reported, "Stephen Reustle caps his reign as the Pacific Northwest Winery of the Year by topping the 2017 Platinum Judging with his flagship bottling of Grüner Veltliner."
Wine Press Northwest's 2017 Platinum Judging held in Kennewick, WA, awarded Stephen Reustle its top honor as his Reustle-Prayer Rock Vineyards 2014 Grüner Veltliner was awarded a DOUBLE PLATINUM Medal and was named "Best of the Best" winning the best of show. This year's competition was marked by success across the spectrum of wine for Reustle, as he earned 4 Double Platinum Medals, 5 Platinum Medals moving Reustle-Prayer Rock Vineyards into fourth place on the all-time list – not bad for a winery which has only participated in less than half of the competitions. In addition to the platinum medals, Reustle also earned 5 Double Gold Medals and 2 Gold Medals during the three-day competition.
Known for his award-winning Grüner Veltliner, Reustle scored Platinum or higher medals for three distinctly different offerings of the varietal he pioneered in the United States. All three Grüners elicited "Wow" responses from this year's judges who noted the fruit characteristic balanced with spice and acidity that lingered on the palate, producing a "Forever finish."
A "Vivid and Everlasting finish" was how judges described Reustle's 2016 Sauvignon Blanc, which won a Double Gold Medal as well. Noting Reustle's success with Grüner, judges were not surprised to find his Sauvignon Blanc was a shining star at this year's competition.
Not limited to success with white wines, Reustle took home a Double Platinum for his 2015 Syrah. "Sultry and smooth" are word used to describe the 2015 Syrah. Noting previous success with Reustle winning the 2015 Six Nations Wine Challenge Best Syrah Trophy, judges were captivated by notes of roasted coffee, fig, blackberry, and blueberry.
When asked about this year's competition Owner/Winemaker Stephen M. Reustle was enthusiastic about moving up to number four on the all-time platinum list with the additional 9 Platinum Medals he won at this year's competition. Reustle noted that this year's invitational competition was filled with over 650 entries of Gold Medal winning wines and that the level of competition was the highest ever.
This year's competition proved that you can find terrific wines at affordable price points. The average price point of the Double Platinum Medal winners was under the $30 threshold at $29.15, with the Reustle-Prayer Rock Vineyards' price point just above the $25 mark at $25.75. When asked about pricing Owner/Winemaker Stephen M. Reustle stated that one of his top priorities was to bring world-class wines at approachable price points to the market.
The 2017 medal results for Reustle-Prayer Rock Vineyards are as follows:
"Best of the Best" – 2014 Grüner Veltliner
Double Platinum – 2014 Grüner Veltliner, 2015 Grüner Veltliner, 2015 Syrah, 2016 Sauvignon Blanc
Platinum- 2013 Syrah Reserve, 2014 Rojo Dulce, 2014 Pinot Noir Reserve, 2015 Côt et Merlau, 2015 Grüner Veltliner Reserve
Double Gold – 2014 Syrah, 2014 Syrah Reserve, 2014 Riesling, 2015 Tempranillo, 2015 Grüner Veltliner – Smaragd
GOLD – 2014 Pinot Noir, 2015 Malbec