Umpqua Valley Barrel Tour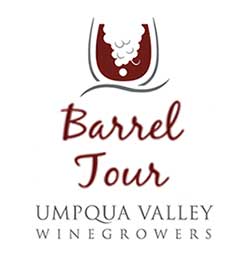 No event has been planned for 2023. Please check back here, or on our Facebook page for updates concerning 2024.
Celebrate springtime among the vineyards of the Umpqua Valley! Let us do the driving while you sit back with friends and tour the wineries by bus, sampling wines beautifully paired with food. Learn about the wineries and the winemaking process from our skilled winemakers and tasting room staff. Enjoy mature vines and grape harvest as you ride through the rolling hills in the 100 Valleys of the Umpqua. If plans allow, resume your Umpqua immersion on the Sunday after the event by visiting any of the wineries on your own for continued Barrel Tour specials.
Questions? Email us at uvbarreltour@gmail.com.
---
2020 Event Information
---
NORTH TOUR
Bradley Vineyard
Brandborg Winery
Lexème Wines
Meadows Estate Winery
River's Edge Winery
Triple Oak Wine Vault
North Tour buses depart from the Sutherlin Parking lot behind Dairy Queen at 9:00 AM. (Subject to change.)
NOTE: "Cottage Grove" bus departs from The Village Green in Cottage Grove at 8:45 AM. (Subject to change.)
UMPQUA TOUR

Ferraro Family Vineyards
JosephJane Winery
Knostman Family Winery
Spire Mountain Cellars
The Cellars at SOWI
Umpqua Tour buses depart from Umpqua Community College's west end parking lot near the Wine Institute at 10:00 AM. (Subject to change.)
CENTRAL TOUR
Delfino
Foon Estate Vineyard
HillCrest Winery
Melrose Vineyards
Paul O'Brien
Central Tour buses depart from the Roseburg Downtown Parking garage at 10:00 AM. (Subject to change.)
SOUTH TOUR
Abacela
Chateau NonChalant
Freed Estate
Spangler Vineyards
Trella Vineyards
South Tour buses depart from the Roseburg High School parking lot at 10:00 AM. (Subject to change.)
---
Tickets
---