April 13, 2019 – New date and location
Tickets on sale now!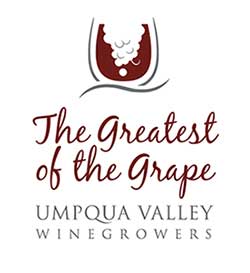 The 49th Annual Greatest of the Grape will be held April 13th at Douglas Hall at the Douglas County Fairgrounds in Roseburg, Oregon.
Enjoy the best of the Umpqua Valley at the Greatest of the Grape gala — Oregon's longest running fine wine event. Taste through the wonderful bounty of the Valley with appetizers and wine pairings from Southern Oregon wineries and our area's gourmet food artisans. Dance along to live music by Roseburg's Flashbak, place a bid to win luxurious prizes during our silent auction and vote for your favorite wine and food pairing.
VIP Ticket holders earn first access with early entry into the event at 6:00 PM. Beat the crowd and meet the winemakers. Only available online.
Reserve Table tickets are 10 regular 7:00 PM entry tickets, reserved with name of buyer.
Questions/comments regarding ticket sales, please email us: greatestofthegrape@gmail.com
We now have a Mobile App to use for voting for Best Wine and Best Wine & Food Pairing throughout the night. Download the app today and be ready for voting the night of the event.
The ticket gets you into the event and includes wine tastings and food pairings.
---
2019 Tickets
---
2018 Participating Wineries
Abacela
Becker Vineyard
Bradley Vineyards
Brandborg
Chateau Nonchalant
Cliff Creek Cellars
Cooper Ridge Vineyard
Delfino
Falk Estate
Ferraro Family
Foon Estate Vineyard
Foris Vineyards Winery
Freed Estate Winery
Girardet
Henry Estate Winery
Hillcrest Vineyard & Winery
JosephJane Winery
Lexeme
MarshAnne Landing
Melrose Vineyards
Misty Oaks Vineyard
Paul O'Brien Winery
River's Edge Winery
Season Cellars
Spangler Vineyards
Spire Mountain Cellars
The Cellars at SOWI
Trella Vineyards
Triple Oak Vineyard
Troon
Wild Rose Vineyard
---
2018 Shuttle & Accommodation Information
2018 information coming soon. Please arrive 15 minutes prior to departure times. Sorry, no shuttles are scheduled for VIP ticket holders to arrive by the 6:00 PM entry time. GofG18_ShuttleAccom
---
Voting App
We'll have a mobile app that you can use to vote for your "Favorite Wine" and "Favorite Wine & Food Pairing" so bring your mobile phone with you to the event. Get a jump start for voting and add the app to your phone ahead of time by downloading the app.
Volunteers will also be available to assist you at the event. The awards ceremony will be held at 10:00 PM.
---
2018 Wine Judges
Mattie John Bamman
Portland-based culinary travel writer. With more than a decade of experience, he serves as the contributing editor to Northwest Travel & Life Magazine and publishes under his own travel brand, Ravenous Traveler. From 2015 to 2017, Mattie served as the editor of the rapidly growing food news website Eater Portland. Mattie got his start in journalism in San Francisco, interning at McSweeney's Publishing House (The Believer; McSweeney's Quarterly Review) and working as a freelance music and tattoo writer and photographer. He turned his focus to culinary travel in 2008 while living in Italy's Puglia region, famous for its primitivo and negroamaro wines and amphora aging. He regularly interviewed winemakers and wrote wine-tasting guides for the travel blog EuropeUpClose.com. Mattie moved to Oregon in 2010, and for research, he participated in the 2010 harvest at Dobbes Family Estate. Since then, he has regularly written articles on wines and wine tasting in British Columbia, Washington, Idaho, and Oregon ,and closely covered the urban winemaking scenes in Portland, Seattle, and Boise.
Hilary Berg
Born and raised in Wichita, Kansas, Hilary Berg moved to Oregon in 2000 after graduating from the School of Journalism at the University of Kansas. She has been editor of Oregon Wine Press since 2006 and owns Roots Wine Co. located in Yamhill-Carlton AVA with her husband, Chris. She is mom to Theo, her spunky 8 year old boy, and two herding pooches, Bluebird and Ditto.
Erin James
Editor-in-chief of Sip Publishing, where she is at the helm of editorial affairs for the award-winning Sip Northwest and Cidercraft magazines. In addition to freelance writing for regional and national publications, she authored the book "Tasting Cider: The CIDERCRAFT Guide to the Distinctive Flavors of North American Hard Cider," released by Storey Publishing in 2017. When she's not writing or reading, she can be found drinking white Burgundy and eating her weight in cheese.
---
2018 Food Judges
Nathan Radford
Nathan Radford is a graduate of the Oregon Coast Culinary School and is currently the Executive Chef at Riverview Terrace in Roseburg. Nathan is a former Executive Chef at the Roseburg Country Club and prior to that he was a Chef at a lodge in Jackson, Wyoming. Nathan did his internship at Innisbrook Golf & Salamander resort in Palm Harbor, Florida.
Nancy Rodriguez
Nancy is a freelance writer living and working in the Umpqua Valley at Triple Oak Wine Vault in Oakland. Nancy graduated from culinary school in Portland and studied to become a sommelier as well.
Nancy began her career with Erath Winery in Dundee, Oregon and other wineries from Yamhill County and the mid-Willamette Valley. She continues to be active in the Umpqua Valley wine scene sharing her passion for food and wine.
Greg Vincent
Greg Vincent is a graduate of Le Cordon Bleu in Portland. He did his culinary internship in Saipan at the Hyatt Regency. Greg also cooked for Oprah Winfrey while working at the Sun Valley Lodge. Greg worked the last two years at True Kitchen+Bar in Roseburg, before recently moving to Eugene.
---
2018 Sponsors