March 21, 2020
Our 50th Anniversary Celebration!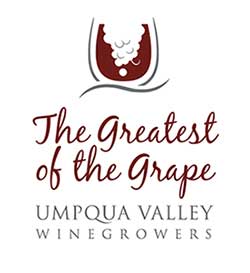 See the 2019 results here.
The 50th Annual Greatest of the Grape will be held March 21st at Douglas Hall at the Douglas County Fairgrounds in Roseburg, Oregon.
Enjoy the best of the Umpqua Valley at the Greatest of the Grape gala — Oregon's longest running fine wine event. Taste through the wonderful bounty of the Valley with appetizers and wine pairings from Southern Oregon wineries and our area's gourmet food artisans. Dance along to live music, place a bid to win luxurious prizes during our silent auction and vote for your favorite wine and food pairing.
VIP Ticket holders earn first access with early entry into the event at 6:00 PM. Beat the crowd and meet the winemakers. Only available online.
Reserve Table tickets are 10 regular 7:00 PM entry tickets, reserved with name of buyer.
Questions/comments regarding ticket sales, please email us: greatestofthegrape@gmail.com
We now have a Mobile App to use for voting for Best Wine and Best Wine & Food Pairing throughout the night. Download the app today and be ready for voting the night of the event.
The ticket gets you into the event and includes wine tastings and food pairings.
---
2020 Tickets
Tickets will go on sale December 2019.
---
2019 Participating Wineries
Abacela
Becker Vineyard
Bradley Vineyards
Brandborg
Chateau Nonchalant
Cooper Ridge Vineyard
Delfino
Falk Estate
Ferraro Family
Foon Estate Vineyard
Freed Estate Winery
Girardet Vineyards & Winery
Hillcrest Vineyard & Winery
JosephJane Winery
Lexeme
MarshAnne Landing
Melrose Vineyards
Mustard Seed Cellars
Paul O'Brien Winery
River's Edge Winery
Season Cellars
Spangler Vineyards
Spire Mountain Cellars
The Cellars at SOWI
Trella Vineyards
Triple Oak Vineyard
Vogel Vineyard
Whitetail Ridge Vineyard
---
2019 Shuttle & Accommodation Information
Please arrive 15 minutes prior to departure times. New this year: Shuttles for VIP entry ticket holders! Please note; shuttle will be school buses like used in our annual Spring Barrel Tour.
VIP Ticket holders:
5:15 PM pick up at Sleep Inn & Suites
5:30 PM pick up at Hampton Inn & Suites
5:45 PM pick up at Holiday Inn Express
5:55 PM deliver to the Fairgrounds
Regular Ticket holders
:
5:30 PM Leave Seven Feather's Hotel Entrance (one time only)
6:15 PM pick up at Sleep Inn & Suites
6:30 PM pick up at Hampton Inn & Suites
6:45 PM pick up at Holiday Inn Express
6:55 PM deliver to the Fairgrounds
Note: Buses will continue to loop between Roseburg hotels and fairgrounds throughout the event.
Return Trip details:
Return Trip to Roseburg Hotels (Bus #1 and/or #2) rotating ongoing:
9:00 PM, 9:45 PM, 10:30 PM, and final return trip is 11:00 PM
Drop off at Holiday Inn Express
Drop off at Hampton Inn & Suites
Drop off at Sleep Inn & Suites
Return Trip to Seven Feathers Casino (Bus #2) single boarding at 10:45 PM and leave by 11:00 PM to Canyonville.
Douglas County Fairgrounds, I-5 exit 123
Holiday Inn Express, I-5 exit 124, (541) 673-7517
Hampton Inn & Suites, I-5 exit 125, (541) 492-1212
Sleep Inn & Suites, I-5 exit 127, (541) 464-8338
All three hotels listed, as well as the Best Western Plus – Hartford Lodge in Sutherlin (541) 459-1424, will honor a 15% discount when you mention you are attending the Greatest of the Grape when booking.
PLEASE NOTE – Seven Feathers Hotel & Casino Resort
Only ONE shuttle bus LEAVING Seven Feathers at the hotel entrance at 5:30 p.m. for the 7:00 entrance time (general admission) and only ONE shuttle bus LEAVING promptly at 11:00 pm returning directly to Seven Feathers (boarding starts at 10:45 PM).
---
2019 Participating Restaurants
Big K Guest Ranch
Chef Mel's
Condon's Culinary Creations
Creative Catering
Fairgrounds Professional Catering
Firehouse Fudge Co.
Nellie's Deli & Tap House
The Parrott House
River Rush Catering
Smokin' Friday BBQ
Steamboat Inn
Tolly's Restaurant
True Kitchen & Bar
Tucky's Southern Kitchen & Pantry
---
Voting App
We'll have a mobile app that you can use to vote for your "Favorite Wine" and "Favorite Wine & Food Pairing" so bring your mobile phone with you to the event. Get a jump start for voting and add the app to your phone ahead of time by downloading the app.
Volunteers will also be available to assist you at the event. The awards ceremony will be held at 10:00 PM.
---
2019 Wine Judges
Michael Alberty
The Oregonian
Michael Alberty writes about wine for The Oregonian. His "The Changeup" column about unusual Oregon wines and grapes appears monthly in the Oregon Wine Press. His words appear in such places as Jancis Robinson's Purple Pages, Decanter, Sunset, Wine & Spirits, Willamette Week, Terre, Pipette and Sprudge Wine. He believes boring wine tasting notes are a sin and that Kansas City has the bbq in America.
Matt Talbot
WineRabble.com
Matt Talbot likes wine. Some varietals he prefers more than others. He enjoys learning about wine. But what he likes most about wine is the journey. The act of going tasting, exploring new areas of the country, discovering new wineries and wine makers, visiting towns off the beaten path-these are the things he enjoys the most about wine. Traveling and drinking, like peanut butter and jelly, go together seamlessly like wine and chocolate.
Dr. Liz Thach
Sonoma State University
Dr. Elizabeth "Liz" Thach, MW is the Distinguished Professor of Wine and a Professor of Management at Sonoma State University in Rohnert Park, California. Her areas of expertise include Wine Business Strategy, Human Resource Management, and Leadership Development. She started teaching as a full-time professor at SSU in the Fall of 2000. In addition to teaching, she currently conducts research and does consulting with multiple wineries and other local businesses. Prior to coming to SSU, she worked more than 10 years as an HR executive and manager in Fortune 100 companies.
In May of 2011 she was awarded the title of Master of Wine from the Institute of Masters of Wine in London, making her the first female MW on the West Coast and the 7th woman in the US to achieve this honor. Liz's passion is wine, and she has visited most of the major wine regions of the world and more than 37 countries.
---
2019 Food Judges
Chris Cook
With a 30-year career in marketing, Capiche Wine Marketing & PR owner Chris Cook focuses on our burgeoning wine industry. Combining her expertise in branding with her passion for entrepreneurship, she helps wineries sell wine and create loyal fans through branding, marketing, PR, secret shopping, and staff training to create a "wow" factor. A member of the Oregon Wine Experience's marketing committee, Chris is a regular contributor to the Southern Oregon Wine Scene, Oregon Wine Press, and Southern Oregon Magazine. When not skiing or hiking, you'll probably find Chris in a tasting room doing "research"—she visits more than 100 per year!
Nathan Radford
Nathan Radford is a graduate of the Oregon Coast Culinary School and is currently the Executive Chef at Riverview Terrace in Roseburg. Nathan is a former Executive Chef at the Roseburg Country Club and prior to that he was a Chef at a lodge in Jackson, Wyoming. Nathan did his internship at Innisbrook Golf & Salamander resort in Palm Harbor, Florida.
Nancy Rodriguez
Nancy Rodriguez is the Chef in Wine Country. She began her career working with Oregon wineries as a professional chef after graduating from culinary school in Portland, Oregon and also studied to become a
sommelier
. Upon arriving in the
Umpqua
, where she now lives and works, Nancy applied her 25 years of experience to writing about food and wine. As a freelance writer, she regularly contributes to the Oregon Wine Press and the UV Magazine. She is an advocate for the wines of the
Umpqua
Valley and currently the Wine Ambassador for the
Girardet
Vineyards and Winery. Her volunteer work includes The Greatest of the Grape, The Oregon Wine Experience and the
Sutherlin
Rotary Club.
---
2019 Sponsors