March 3, 2018
Tickets on sale November 1st!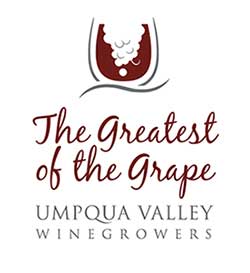 The 48th Annual Greatest of the Grape will be held March 3rd at Seven Feathers Casino Resort in Canyonville, Oregon.
Enjoy the best of the Umpqua Valley at the Greatest of the Grape gala — Oregon's longest running fine wine event. Taste through the wonderful bounty of the Valley with appetizers and wine pairings from Southern Oregon wineries and our area's gourmet food artisans. Dance along to live music, place a bid to win luxurious prizes during our silent auction and vote for your favorite wine and food pairing.
VIP Ticket holders earn first access with early entry into the event at 6:00 PM. Beat the crowd and meet the winemakers.
Reserve Table tickets are 10 regular 7:00 PM entry tickets, reserved with name of buyer.
7:00 PM entry tickets will be available to purchase/pick up in person at Abacela Winery and Melrose Vineyards after November 12th.
Questions regarding online ticket sales, please email us: greatestofthegrape@gmail.com
We now have a Mobile App to use for voting for Best Wine and Best Wine & Food Pairing throughout the night. Download the app today!
---
2018 Tickets on sale in November 1st
VIP TICKETS
Early entry at 6:00 pm, $125.00
TICKETS
7:00 pm entry, $90.00
RESERVED TABLE
Table of 10, 7:00 pm entry, $900.00
---
2018 Shuttle & Accommodation Information
2018 information coming soon. Please arrive 15 minutes prior to departure times. Sorry, no shuttles are scheduled for VIP ticket holders to arrive by the 6:00 PM entry time.
---
Voting App
We'll have a mobile app that you can use to vote for your "Favorite Wine" and "Favorite Wine & Food Pairing" so bring your mobile phone with you to the event. Get a jump start for voting and add the app to your phone ahead of time by downloading the app.
Volunteers will also be available to assist you at the event. The awards ceremony will be held at 10:00 PM.
---
2018 Participating Wineries
---
2017 Judges
Tamara Belgard's tasting career spans nearly two decades, beginning first as a marketing professional and consultant for the Oregon wine industry, and then as a wine journalist. You're likely to find her tirelessly chasing down stories about wine, vineyards, and producers for publication in Oregon Wine Press, Portland Monthly, 1859 Magazine, Palate Press, and on her own website at satiatepdx.com. Through her writing, she intends to make wine more approachable—engaging and educating both novice wine consumers and enthusiasts alike—and considers herself a passionate Oregon wine ambassador. Her interests include travel and all things culinary; you'll typically stumble upon her traipsing through wine country, perusing her local farmers market, or searching the racks of her favorite wine shop for hidden gems.
Michele Francisco is a founder and regular contributor to Winerabble, a blog primarily about Pacific Northwest wines and is living the dream in Portland, Oregon. After attending the wine program at Chemeketa College, including a number of technical tasting courses, she is educated in the flaws and faults of wines and is an experienced wine judge. Michele has worked for a number of wineries behind the bar, in the cellar, out in the vineyard and in front of a computer. And now, from her home office, she can even keep an eye on the grapevines in her hobby vineyard. Her passion leads some to believe she's got wine running through her veins. Michele also runs a small public relations firm called 750 Media and loves promoting Oregon wines.
Martin Skegg is a writer and editor based in Portland, OR. As wine writer at the Portland Mercury he specializes in bringing wine concepts and trends to a general audience. For a number of years he was a restaurant critic for The Guardian and bar reviewer at Time Out London. His work has appeared in the likes of The Financial Times, The Independent newspaper, Wallpaper and Tatler. He is a Symposium for Professional Wine Writers 2017 scholarship recipient.
---
2017 Sponsors